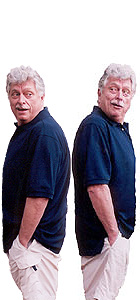 Robert
Locke
Clayton
Bess
2015 NOTE:
This page is called "Home" and I should update it from the home page I first created in 2004, I guess, if you can trust the copyright notice at the bottom of this page. The website has grown labyrinthine and there are lots of good stories on it now, if you know where to look. And since I am supposing that people arriving at any given page might actually click "Home", maybe I should guide you to the navigational tool in the blue panel to the left of this page, "Site Map" —which functions like a Table of Contents for all my formal writings— also to the way more informal page you would reach if you figured out how to navigate by clicking Robert Locke, then Biography at the bottom of that slide menu, which brings to mind the words of Gilbert to the tune of Sullivan, "But nobody does so why should you?" The biography page has become a hash of updating links from 2007, 2009, and 2015 and all years in between. Through the years since 2004 most of my visitors have arrived by google looking not for me but for my brother the famous gay-porn-star Richard Locke —handsome, hung, exotic and erotic and so iconic that they linger in those pages I created for Richard rather than clicking "Home" to find out more about me, but again, nobody does so why should they? Should YOU, however, actually arrive here looking for information on either Robert Locke or Clayton Bess —and I really really hope that someday you might, and for good reasons— you might like some words more recent than the original disclaimer below. So, yes, click first Robert Locke>Biography and go to that page and its links, as mixed up as you may find them. That's me, Bob, mixed up maybe, but as honest as I am wordy, and yeah I'm the guy who keeps putting new stuff onto this website (not Robert Locke or certainly not Clayton Bess).
END 2015 NOTE.
Robert Locke worked for many years as a librarian at California State University, Sacramento, which hosts this website and also includes his books and plays in its Library's regular collection and its Archives. Robert Locke takes full responsibility for the information posted. The information on this page represents that of Robert Locke and not that of California State University, Sacramento.
Robert Locke. Hmm. Well, I am Robert Locke, yes, but sometimes I wonder because there is also this Clayton Bess fellow, and I suppose he must be accounted for here in this space, too.
But first let me describe this Robert Locke-Clayton Bess website you've ventured into, for whatever reasons you may have. The main purpose of the website is to allow you to get to know my works—that is, my novels, plays and my acting roles. I suppose I'll have to throw in some autobiographical stuff and some photos, but really I often believe that my life is my work. Therefore I encourage you to click on the links to my books and plays to find out more about what drives me through my life.
Here on this homepage, however, I'll tell you at least the why and the wherefore of my pen name. My father's name is Clayton and my mother's name is Bess. In 1982, with the publication of my first book, Story for a Black Night, I was afraid both of them did not have long to live because they were both having heart trouble. Putting their names on my book was a way of giving them immortality, I thought, and the greatest honor I had to award them for being such good parents to me all my life.
In any case, it seemed to me at that time that I didn't really have any career as a writer ahead of me. During the ten years I searched for a publisher for Story for a Black Night and during the two years of delay after its actual acceptance for publication, that notion crystallized. So, it was no big deal giving away my own name to my parents. As it turned out, however, Story for a Black Night garnered starred reviews and even a few awards. So it was, after all, the beginning of a career for Clayton Bess, author of books for young people.
Just afterward, a completely separate career as playwright also finally began to open up. I had been writing plays and screenplays for years—to utter rejection by producers—but now my play The Dolly was about to be performed in San Francisco, with another production planned almost immediately afterwards in my hometown across the bay. For these productions, I wanted my own name as playwright, so that people who knew me from high school and college would come to see my work. It also seemed natural to me to keep the two writers separate since The Dolly was definitely for adults, and not at all for young people. (I've since changed my mind about that.)
And this is the how of my having two names attached to my writings. It would have been simpler if I had never invented Clayton Bess but simply let Robert Locke do his own writing and talking. But that's the way it is.
Copyright © 2004 Robert Locke, rev. 2015
All Rights Reserved